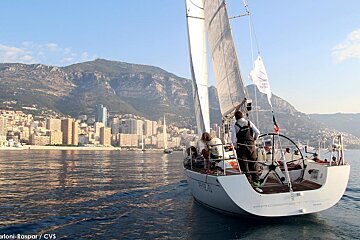 © Ph. Carloni-Raspar / CVS
Palermo - Monte Carlo Regatta, Monaco
Classic 500 nautical mile offshore yacht race
The course leaves the Gulf of Mondello bound for the Principality of Monaco. Contestants will have to pass through a "gate" off Porto Cervo, Sardinia, then onto Corsica before reaching Côte d'Azur shores.
Organised by the Circolo della Vela Sicilia and the Yacht Club de Monaco, in collaboration with the Yacht Club Costa Smeralda, the Palermo-Montecarlo attracts illustrious participants like the fleet led by Pierre Casiraghi, son of Princess Carolina of Monaco and Stefano Casiraghi, winner in 2013.
In addition to the record and the overall victory on elapsed time, Palermo-Montecarlo gives away two different prizes: "Trofeo Angelo Randazzo" in honour of the creator of the race and President of Circolo della Vela Sicilia, and "Trofeo Giuseppe Tasca d'Almerita" set up in honour of the founder of the Sicilian Circolo della Vela itself, assigned to the first yacht crossing the line in real time.
Monaco will host the last stage of the regatta in its bay, as well as the awards ceremony and a glamorous dinner.
Facts & figures
One of the most prestigious offshore regattas of the Meditteranean Sea, it is part of numerous international circuits including the Italian Offshore Championship organised by the Italian Sailing Federation, the Mediterranean Trofea d'Altura and the Owner of the Year Trophy for the UVAI. It's also part of the Championnat et Trophees Inshore et Offshore Mediterranee en Equipages-IRC.
It was founded in 2005 following the wish from the Consul of the Principality of Monaco and the Councilorship of Sport from the Municipality of Palermo to unite two historically friendly cities. The regatta offers high technical and landscape features to all sailing lovers.
Many famous and acclaimed sailors and boats have sailed this regatta, from Steinlager 2, the legendary triumphant ketch of the round the world race (winner of the 1989-90 Whitbread with Sir Peter Blake at the helm), to the super Maxi Yachts such as Esimit Europa 2 or Senseo One, to name just a few.
The record of the regatta is held by Maxi Esimit Europa 2, owned by Igo Simcic, with 47 hours, 46 minutes and 48 seconds. This boat won the regatta in 2010, 2011, 2012 and in 2015, when it took the record time. In 2010 it also won the Angelo Randazzo Trophy.
Location