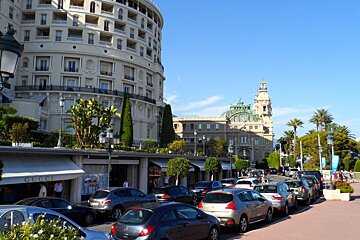 Shopping in Monaco
Discover the top Monaco shops and shopping areas
There are all the luxurious and designer shops you could wish for in Monaco, sitting on its Golden Square, or Cercle d'Or. As in Paris and Milan, here you will find all the haute couture designers.
Where are the best shops?
In the old part of Monaco, you're more likely to find souvenirs to take home and postcards to send to loved ones. More mainstream high street shops can be found in the Galeries du Métropole. It's not all 'through the roof' prices in Monaco, but don't expect to find any bargains.
Traditional souvenirs and retail stores can also be found on the Allées Lumières, or in Fontvieille Shopping Centre with their windows of clothes, decorations, leather goods and presents, all that you could wish for you can find in the Principality!
Luxury & designer
If you're looking for something sparkly and precious, head to the streets around Place du Casino where you will find all the top jewellers - Cartier, Chopard, Bulgari... And for art lovers there are many antique dealers to be found.
The 'Carre d'Or' (golden square) in the heart of Monte-Carlo is THE place to shop if you are looking for the latest catwalk sensations such as Hermès, Céline, Christian Dior, Saint Laurent Rive Gauche, Louis Vuitton, Gucci, Chanel, Prada, Ichthys and more.
La Condamine, the Port, offers a more diverse experience (Rue Grimaldi, Rue Princesse Caroline, Rue Millo, Rue Terrazzani). With 200 boutiques in a typical neighbourhood around the traditional market of Port Hercule, Rue Grimaldi, Rue Millo and Rue Terrazzani are favourite addresses for shops of all kinds. In the area around the pedestrianised Rue Princesse Caroline, you can do your shopping in peace and quiet.
Markets
It might come as a surprise, but despite Monaco's air of exclusivity, the good old-fashioned market is still alive and well in the principality. The open-air market sells fruit, vegetables and flowers while there is an additional indoor space that houses the butchers, bakers, fishmongers and specialist stalls that sell housewares, foods and wine.
The Monte-Carlo Market is a covered market that is open daily. More of a farmer's market selling fruit, vegetables, meats, dairy produce and local breads, it's great for picking up those essential picnic items. Situated in avenue Saint-Charles since 2003 this market offers visitors a fantastic array of aromas, colours and choice of produce.
Shop opening times
As a rule, shops open daily 10:00 to 19:00. With the exception of Monte Carlo's designer boutiques, most shops will be open on Sundays. The daily markets trade between 06:00 and 14:00 (although it's best to arrive early if you want to take advantage of the fresh produce).