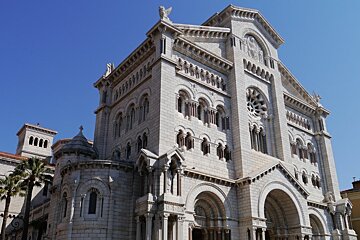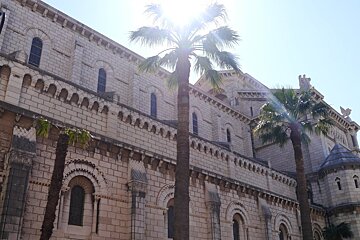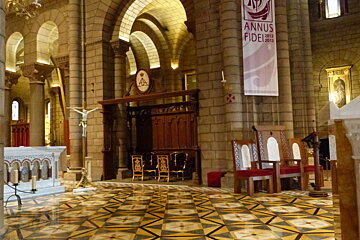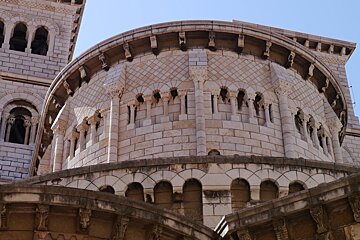 Saint Nicholas Cathedral of Monaco
Monaco's most important religious building, perched atop the Rock of Monaco
The cathedral of Monaco is dedicated to the Virgin, although popularly known as Saint Nicholas because of the church that previously stood on its site. The current building was built in the 19th century.
The first chapel was built here in the 13th century, dedicated to Saint Nicholas. It was turned into a cathedral in the 19th century, and the old building was demolished in 1874. The first stone of the new cathedral was set in 1875 with works finishing in 1903, although it was not consecrated until 1911.
The church was designed according to a Roman-Byzantine style. Inside, there are chapels dedicated to Sainte Devote, Saint Roman and the Saint Sacrament. The 16th-century altarpiece of Saint Nicolas comes from the old church and was produced by the famous Niçois painter Louis Bréa.
Most of the princely family is buried in the cathedral, from Jean II Grimaldi, who died in 1505, to Grace Kelly, deceased in 1982, and Rainier III, who passed away in 2005. It was also where Albert II was invested prince in 2005, and where the wedding of Rainier III and Grace Kelly took place on April 19th 1956 before 600 guests, including Cary Grant, Aristotle Onassis, Ava Gardner and Gloria Swanson.
Watch this
Visitor comments
"This is a beautiful old church. I was a fan of beautiful Princess Grace. To see her entombed on the Cathedrals floor was quite moving. It was lovely and peaceful in this church and I was glad to go inside." - Trip Advisor
"A lovely interior some may say sumptuous interior. It was moving to stand before the tomb of Princess Grace! Be sure to walk about the cathedral and look at the side chapels and the sculptures and paintings. The organ sounds wonderful." - Trip Advisor
"Monaco's cathedral is very beautiful and full of art and history: in this church, generations of the local nobility have celebrated weddings, baptisms and funerals. Its decoration is sumptuous, in my view, with Byzantine mosaics, oil paintings of religious figures and events, sculptures, splendid marbles and other kinds of ornaments. Unfortunately, we didn't have the opportunity of attending a celebration, but we could listen to the organ. Most of the visitors, of course, stop for some time in front of the tombs of the Princess Grace Kelly and her husband, Prince Rainier." - Trip Advisor
When to come
The cathedral is open from 08:00 to 19:00 between May and September, and from 08:30 and 18:00 October to April.
Location