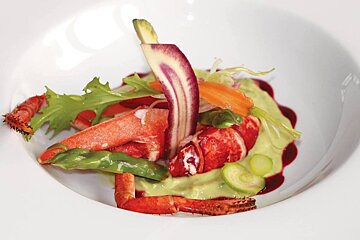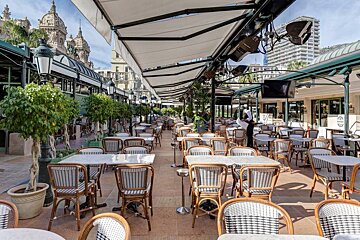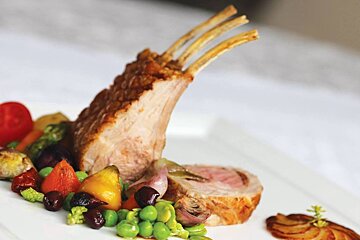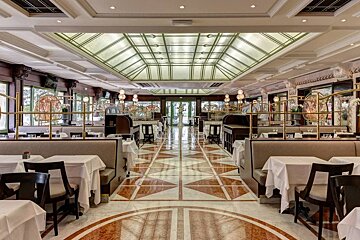 Brasserie du Cafe de Paris, Monte-Carlo
Café de Paris is the most popular venue for a "rendez-vous"
With Belle Epoque style windows, recalling the old Parisian bistros, the building creates a bright and friendly atmosphere.
This is an ideal place for lunch or dinner in the heart of Monte-Carlo, right on the legendary Place du Casino, to enjoy the cuisine prepared by Chef Jean-Claude Brugel. In true brasserie style the waiters sweep by holding aloft succulent plates of seafood in season, tempting dishes of the day and traditional fare.
Outside the terrace offers you the privilege of being "outside" at any time of the year. This space can also be booked for groups of up to 100 people (maximum). Open year round, from breakfast until late into the night, the terrace bar is the place to savour a wide range of drinks and exotic cocktails.
Open daily 08:00-02:00
Worth knowing
The perfect place for a coffee and to watch the world go by.
Visitor comments
"Excellent service, very good food, excellent ambiance." - Trip Advisor
"My wife and I spent many an hour sat at a table watching the world go by. Monaco is the perfect place to people watch and even better the cars! We also ate here one night, food was excellent and service great." - Trip Advisor
"The place to sit and watch the world go by in Monte Carlo. Yes it's expensive, but there is no rush so you can while away the afternoon in the sun watching the comings and goings at the casino. Seems to be the hub for car watching. Service is exemplary." - Trip Advisor
Location