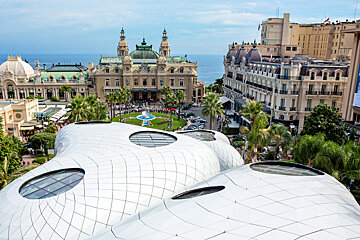 Monte-Carlo Pavilions, Monte-Carlo
Luxury shopping experience a stones throw from the Place du Casino
The Monte-Carlo Pavilions consist of five pebble-shaped spaces, with a total surface area of 2,500 m², large enough for twenty shops. With their rounded, futuristic shapes, the pavilions are located between the avenue de la Costa and the Place du Casino.
The temporary pavilions are meant to last 4 years, which corresponds to the duration of the renovation works at the Hôtel de Paris Monte-Carlo, along Avenue des Beaux-Arts, and the Sporting d'Hiver.
Designed by architects Chérif Jahlan and Richard Martinet, and landscape architect Jean Mus, building was completed in 2014 at a cost of €17million.
The shops inside are luxury brands such as Alexander Mc Queen, Akris, Balenciaga, Bottega Veneta, Boucheron, Chanel, Chopard, Yves Saint Laurent and Zendrini.
Location