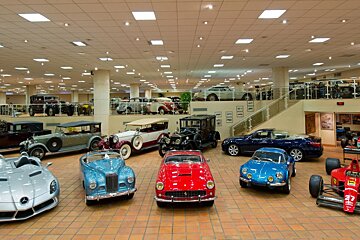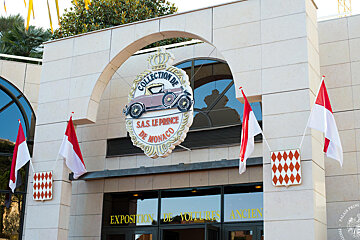 © Collection des Voitures Anciennes
Collection des Voitures Anciennes (Vintage Cars Collection)
Collection of vintage cars owned by the royals of Monaco
Prince Rainier III was a huge car enthusiast and amassed a vast collection of vintage cars.
This museum houses over 100 vintage vehicles including a De Dion Bouton from 1903 and an American post-war 1953 Cadillac. A fitting reflection of the Principality.
The collection also includes: Renault 12cv 4 cylindres Torpedo 1911, Panhard Levassor 1913, Ford T 1924, Peugeot Quadrilette 1921, Lincoln 1928, Citroën Kégresse, Ford A 1930, Hispano Suiza 1928, Delage 1934, Packard 1935, Cadillac 1653, Chrysler Imperial 1956, and some of the most prestigious models from Maserati, Jaguar, Mercedes and Rolls Royce.
Who should go
Any car enthusiast of course. However the collection is particularly interesting even if cars are not quite your thing... the history angle is also fascinating.
Visitor comments
"I'm not really into cars but I found this collection of antique cars really interesting. They span a couple of centuries and are very varied. I'm not sure who needs 5 Rolls Royces but it was interesting to see the various types. You get reduced price entry if you have a ticket for the hop-on-hop-off bus tour." - Trip Advisor
"This is definitely worth a trip even for those non petrol heads. There is a huge number and range of cars from very early to F1 cars and some very beautiful early super cars." - Trip Advisor
"Amazing collection of cars. Great to look around and admire the classics, the sports cars and the carriages. It was like a journey through time. The cars are impeccably kept and looked after." - Trip Advisor
Directions
Coach or car: recommended parking at the "Parking de Fontvieille" ; direct access to the Terrasses de Fontvieille by lift and escalator.
Bus: n° 5 and 6 - stop to the Centre Commercial Fontvieille
Walking: 5 minutes walk from the railway station and 20 minutes walk from Casino Square.
When to come
Open 7 days a week, from 10:00 to 18:00 (closed 25th of December).
How to get passes
Tickets cost 6.50€, reduced to 3€ for children 8 to 14 years old.
Location