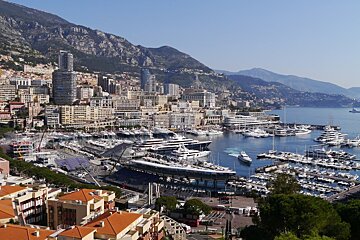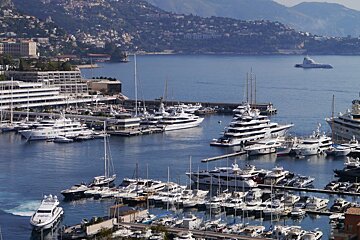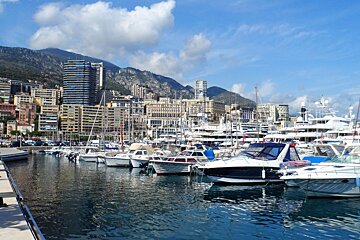 Port Hercule Marina, Condamine
Main port of Monaco in La Condamine area of the principality
Port Hercule is the larger (and infinitely more famous) of the two marinas in Monaco. For the smaller Port de Fontvieille, click here.
It's hard to overstate the importance of Port Hercule in Monaco. Sitting at the foot of the city, this large marina sits in a natural deep bay carved out of the sheer cliffs of Monaco, and is home to a fleet of huge superyachts as well as smaller vessels and cruise ships.
The port has 700 berths, of which 30 are visitor docks according to availability. Port Hercules has 110 berths accommodating yachts over 24m, with its largest berth able to accept a yacht up to 130m in length. Marina depths range from 5m to 40m, so all drafts can be accommodated.
Due to the port's fame and Monaco's very wealthy residents who park their yachts there year-round, it can be difficult to get a berth at Port Hercule and finding one indeed becomes a Herculean task during the Grand Prix in May and Monaco Yacht Show in late September. Regardless of when you visit Monaco the berths tend to be expensive, but if you're after a glamorous address then you've come to the right place as Port Hercule places you right in the centre of the action.
The port is lined with restaurants and bars creating a vibrant atmosphere, while the boutiques, casinos, and Michelin–starred restaurants of Monte Carlo are only a short walk away. Also worth a look is the stunning Yacht Club de Monaco, which was designed by British architect Lord Norman Foster in the shape of a boat.
For your provisioning and yachting needs, you'll find a Casino supermarket just behind the port and many marine businesses including two chandleries, as well as a small shipyard.
Facilities and services: drinking water, electricity (220, 380V), showers & toilets, ship chandlers, 2 cranes (10T and 20T), self service laundrette, waste collection and fuel dock.
43°44'09.82"N ; 7°25'48.75"E
VHF 12
Location