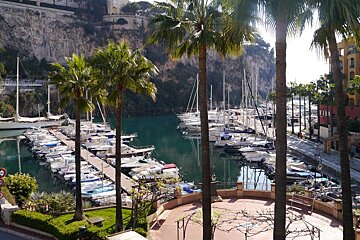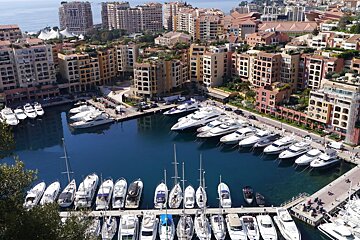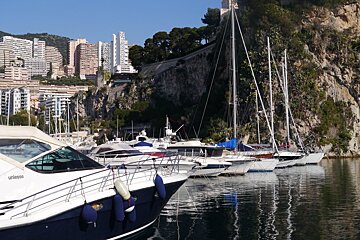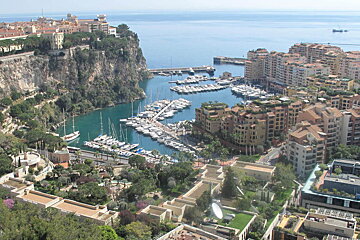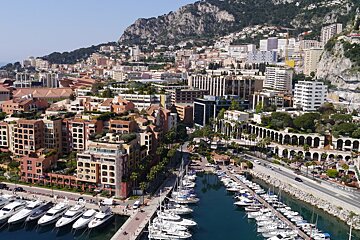 Port Fontvieille Marina, Fontvieille
Smaller of the two Monaco marinas, in the heart of the old town
Fontvieille is the smaller of the two Monaco marinas, nestled right in the residential area of the Monegasque suburb of Fontvieille (You can find the listing for the larger Port Hercule here)
There are 275 moorings with a maximum length of 30m and a maximum draft of 3m. Only 16 of these berths are reserved for visitors, so it can be very difficult to find a spot here, particularly in the summer months.
Sitting beneath the east face of the Rock of Monaco and protected by a large sea wall, the Port of Fontvieille is extremely well protected. It's a great spot, with a vibrant collection of bars and restaurants lining the port, and the royal palace and Monaco's old town perched high on the cliff above. There's even an English pub. However, there aren't many marine facilities, and you'll have to go to the nearby Port Hercule to find practical things like fuel, a chandlery or a shipyard. This is very much a charming residential port rather than a working one.
Facilities and services: Water, electricity (220-380V), toilets and showers, restaurants and bars, telephone, waste disposal for oil and batteries, security patrols 24/7. Nearby you'll find a shopping centre and supermarkets, as well as a helipad if the need arises.
Note: If you need your black water pumping you can do it for free at the Monaco Hercule Port.
VHF:09
43°43'43.53"N 7°25'17.42"E
Location