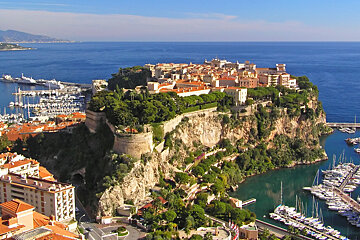 Rocher de Monaco (Rock of Monaco), Monaco
Rocky promontory overlooking the Mediterranean and the oldest part of Monaco
The Rock of Monaco is a 62 metre tall promontory overlooking Monte-Carlo's port and the Mediterranean sea. It is also the oldest of Monaco's areas, where the Old Town is located.
The Rock of Monaco served as a shelter for the area's early humans from the end of the Paleolithic period, approximately 400,000 BC, evidence of which has been found in a cave in St. Judist's Gardens. The area's first permanent settlers were the mountain-dwelling Ligures, who emigrated from their native city of Genoa, Italy.
During the 6th century BC, Greeks founded the colony of Monoikos. Its name comes from Hercules, who was said to have constructed the ancient path that passed through the region from Spain to Italy together with Monaco's port and a coastal road. The road was, thus, dotted with altars to Hercules, and a temple dedicated to him was established on the Rock of Monaco.
The Rock of Monaco was the first conquest of the Grimaldi dynasty, the rulers of the country for more than 700 years, founded when the Guelf Francesco Grimaldi disguised himself as a Franciscan monk in order to gain entry to the city and open the gates for his soldiers in 1297.
Nowadays, the rock is home to Monaco's Old Town, with medieval narrow streets and the country's most important monuments: the Palais Princier, Saint Nicholas Cathedral and the Oceanographic Museum.
Location