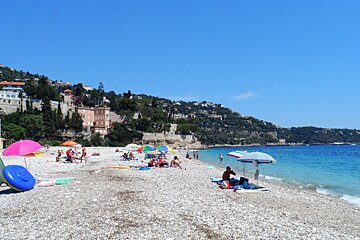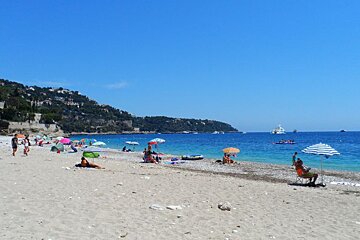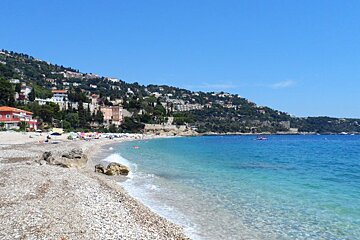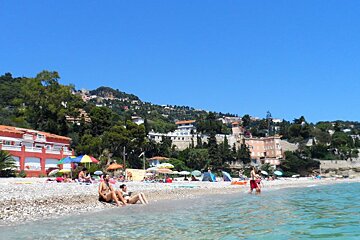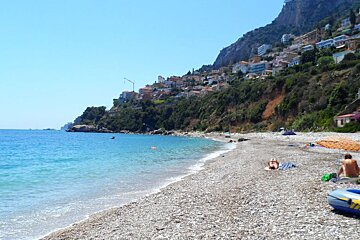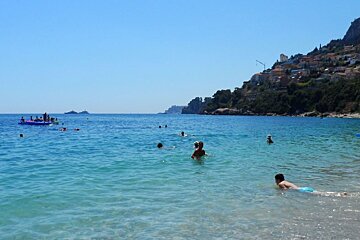 Plage du Golfe Bleu Beach, Roquebrune
Great family friendly beach, a short walk from Roquebrune
This family-friendly beach is easy to get to but not so easy to find, which is perhaps why it always stays fairly quiet even in peak season.
At one end of the beach is a designated dog zone; it's not the prettiest part by a long shot but we're guessing that as long as they can tear about and chase waves then the dogs don't care much what it looks like.
The other end seems to be an unofficial nude sunbathing zone; there is a sign at the tunnel saying "naturisme interdit" (naturism forbidden) but as long as they stay discreetly at the far end then the lifeguards seem happy to turn a blind eye.
Water Safety & Clarity
The beach slopes gently into the water and stays fairly shallow for quite a while; the waves tend to be calm and there is a safe swimming zone marked out with yellow floats.
Plage du Golfe Bleu is supervised by lifeguards during the summer months and there is a first aid station with toilets and showers about halfway along. The nearest place to buy food and drinks is a small snack bar on the railway bridge.
Beach Quality
The beach itself is a mix of large pebbles, gravelly stones and decent patches of sand.
Directions
To get to Plage du Golfe Bleu head uphill from Roquebrune Cap Martin train station, keeping the coast on your left until you come to a bridge that crosses the train track. On the bridge is a flight of stairs leading to a footpath, after a few minutes you'll come to a tunnel on your left that leads directly to the beach. It's only about 5-10 minutes walk from the train station but is far less obvious that the other beaches and therefore far less busy.
Location