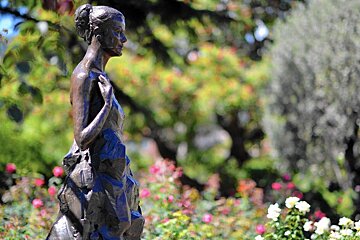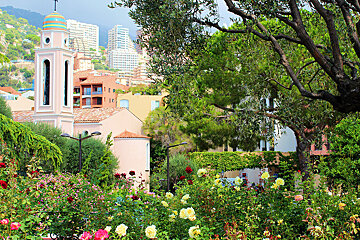 Fontvieille Park & Princess Grace Rose Garden, Monaco
A beautifully landscaped area overlooking the harbour & Mediterranean
These well-manicured gardens contain a variety of beautiful plants, trees and flowers as well as being home to the wonderful Princess Grace rose garden.
Laid out over an area of almost four hectares, this park contains a small lake bordered by palms and olive trees and offers a charming space full of serenity in the Fontvieille area. The footpath leads you around to discover many contemporary sculptures.
The Rose Garden first opened on 18 June 1984. Prince Rainier III wanted to create a place in memory of his wife Princess Grace. More than 30 years later, the new Rose Garden is much larger, but retains the charm of the original garden and has 8,000 rose bushes in some 300 different varieties.
Here you can discover roses such as the rose of the Grimaldi Royal Family and those roses named after Princes, Princesses and celebrities. There is are modern interactive terminals on each rose variety so you can find out more about them.
Worth knowing
The Rose Garden will be maintained in an eco-friendly way, which could result in the garden being awarded the "Ecological Garden" label.
Who should go
Anyone! But this is a special treat for garden and rose lovers.
Visitor comments
"Varied vegetation, lots of shade, lovely and lush. A welcome treat on a hot day. Plus there is a bus stop near for those who can't make the hike up." - Trip Advisor
"Small rose garden, close to the sea, and heliport, in the area of Monaco known as Fonteveille, overlooked by the local hotels and apartments of the rich and famous, Nice for a stroll, or a spot of peaceful reflection, and a popular with visitors and locals alike, for walking their dogs or enjoying time with their kids, there's an small play area, with a merry go round , and a large imposing tent which is used for a variety of things in the summer months, and a fountain, and a statue of Princess Grace, best time to visit is from May onwards when the roses are in full bloom." - Trip Advisor
"The gardens are beautifully appointed on top of the rock. The view out to see is spectacular. It's a beautiful oasis of nature and peace in a very busy place. You can see that nature is a priority and that the preservation of our environment is a key consideration as the garden also serves as an educational experience with plants labelled and a wonderful display of native wood set up at the end closest to the marine museum. Nature lovers will appreciate this experience and its a good place to take the kids. You could spend a day on the Rock exploring all there is to see. I go often, when there, and am still learning." - Trip Advisor
When to come
The garden is lovely from May, when the roses are in full bloom.
How to get passes
Entry to the garden is free.
Location