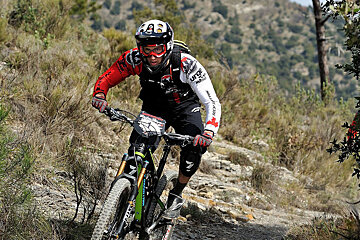 Mountain Biking in Sospel
World renowned bike park for intermediate to expert bikers
Just 45 minutes from Nice in the beautiful Bévéra valley, Sospel is a haven for mountain bikers of all types, from the serious downhillers to the enduro buffs. You can expect dry and exposed rocky trails through shrub-covered ground and lush wooded areas.
Great resort for technical single track or to put in some winter downhill training. There's a bike-park, a year round downhill trail and some graded XC trails making up a total of 150km of riding.
The year-round mild climate and low rainfall make great conditions for mountain biking. With loads more quality riding in the vicinity, not to mention across the border in Italy, this is a must-do trip when the weather is miserable back home.
Due to the geology and natural terrain of the area you will find that it is a mix of nice easy climbs on forest tracks and technical rocky singletrack descents. But not suitable for beginners. The network of 150km waymarked trails from green to black has been created by the FFC.
Watch this
Who should go
The scenery and views are second to none but most of the trails are pretty technical reds and blacks for more experienced riders.
More inspiration...
Find where to hire a bike in Provence.
Location