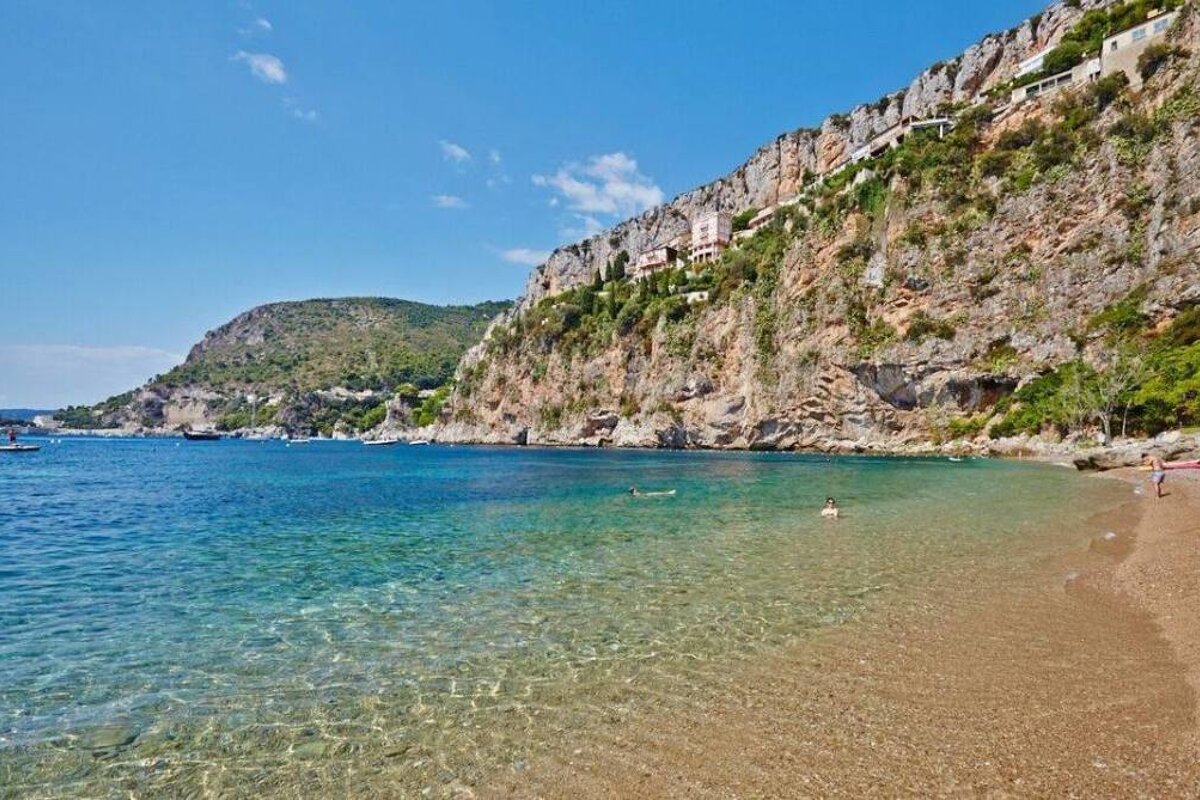 © Max Coquard / Bestjobers
Coolest bathing spots in Monaco
Where to find the clearest waters to make a splash this summer
Monaco has been a popular summer destination since the 19th century. Artists, Hollywood stars and musicians flock here every year to enjoy the beautiful Mediterranean sun, gorgeous beaches and crystal clear waters.
Larvotto Beach is Monaco's main public beach. This large, man-made stretch of sand lies, unsurprisingly, in the Larvotto area. Despite being an urban beach, its waters are crystal clear, partly thanks to its location within a marine reserve. There is even an anti-jellyfish net in place from June to the end of September so that everyone can swim without worrying about getting stung.
There are two smaller public bathing spots on Monaco's coastline. The Plage des Pecheurs is a little natural cove that is usually quite empty. Due to its closeness to the rocks, bathing here isn't advised when the sea isn't calm. There is also an artificial bathing area just below Fort Saint Antoine. As the waters are quite deep, only good swimmers should brave a dip in the Solarium Nouvelle Digue.
The Gouvernement Princier carries out water analysis every two weeks in the summer. Therefore, as you watch paddleboarders float past, super yachts bob on the horizon and tenders bring VIP guests ashore, you can rest assured that those waters are in fact crystal clear and perfect for swimming and cooling off on a hot summer day.
Other beaches around Monaco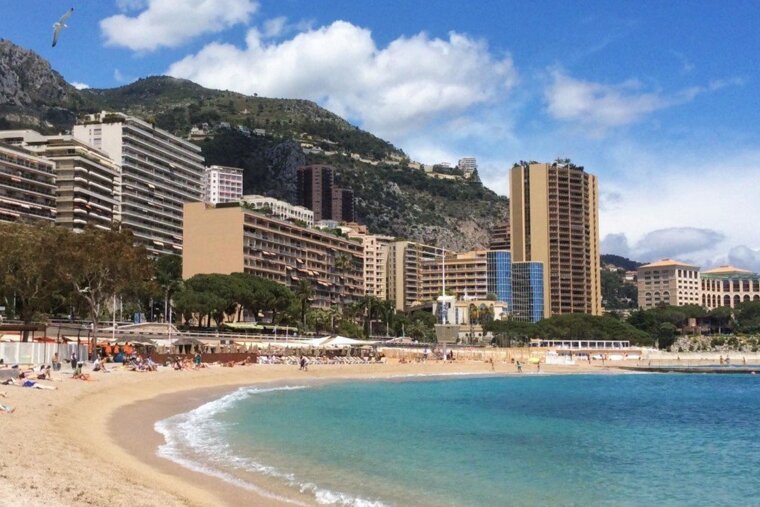 There are plenty of other choices outside the borders of the tiny city-state. Just a 10-minute drive or a 40-minute walk towards the south of Monaco is Cap d'Ail, a beautiful seaside resort that combines modern facilities with an old-world charm that attracted many celebrities from the Hollywood Golden Age. There are two lovely beaches here, Plage Marquet, the closest to Monaco and the most popular of the two because of its easy access, and Plage Mala, a bit more secluded.
North of Monaco, the nearest resort is Roquebrune-Cap-Martin, a lively seaside town just below the atmospheric medieval village of Roquebrune that's only a 15-minute drive from the Principality. The pretty beaches of Plage Buse and Plage du Golfe Bleu in this area are great if you're looking for some peace and quiet. A bit further up the coast is the larger town of Menton. This stunning historic resort is the last French village before the Italian border. Home to the 3rd best restaurant in the world, it also boasts a number of beaches worth visiting, mainly around the Baie du Soleil and the Baie de Garavan.
Beachfront hotels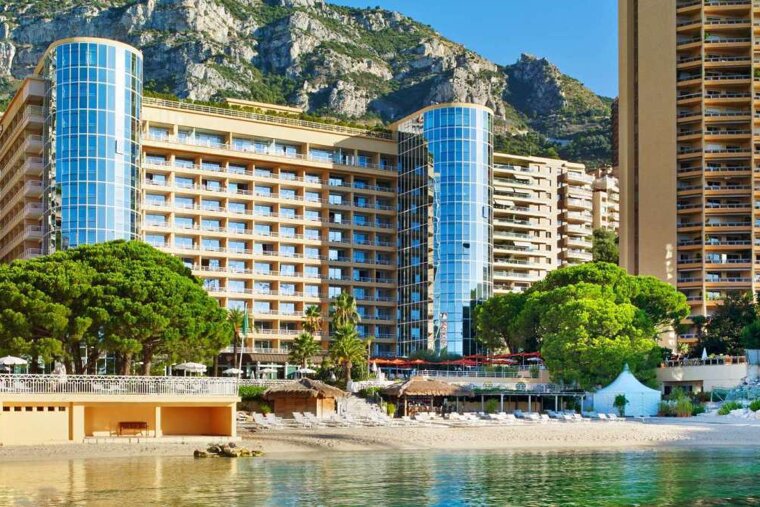 Hotels can be found along the coastline in Monaco, meaning that the water will, in some cases, literally be on your doorstep. Some of the area's better-known establishments have terraces that overlook the beach and offer sea views from the balcony of your room. However, the only one boasting direct access to a private beach is the four-star Le Meridien Beach Plaza Hotel, with a whole host of watersports on offer including jet ski, parasailing and pedaloes, as well as a beach bar and masseuses. If you'd rather enjoy Larvotto Beach, Monte-Carlo Bay Resort is the nearest hotel. Rated 4 stars, it has a casino, spa and children's club as well as the world-famous concert room Salle des Etoiles.
Beach clubs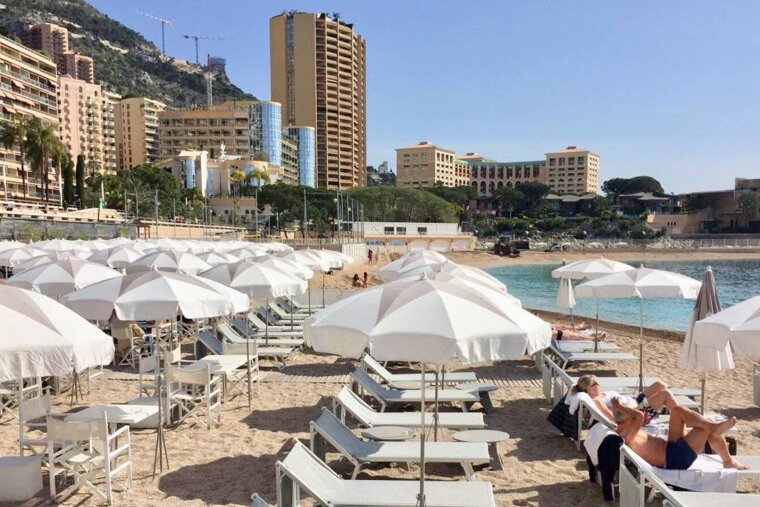 Another good option if you wish to spend your days with your toes in the sand and the waves gently lapping around your ankles is to enjoy one of the many beach clubs in Monaco. On Larvotto Beach, head to La Rose des Vents, featuring sun loungers and a restaurant serving traditional local cuisine. If you'd rather enjoy your own private beach, then La Note Bleue is the one for you.
Location
Monaco, Monaco