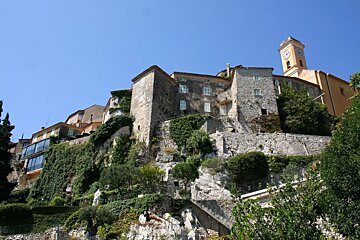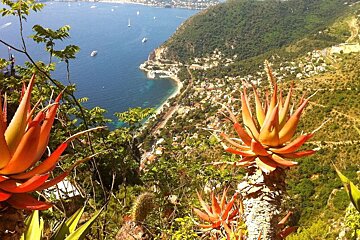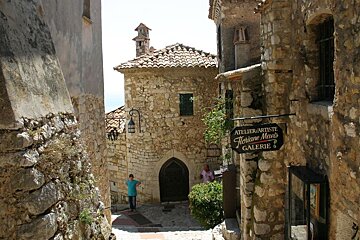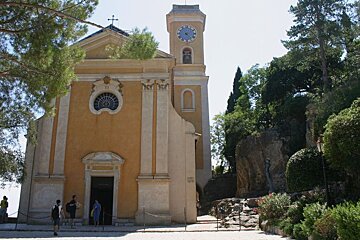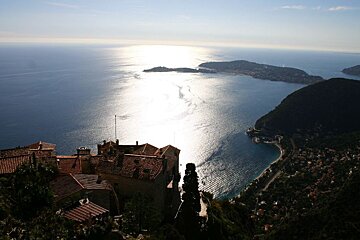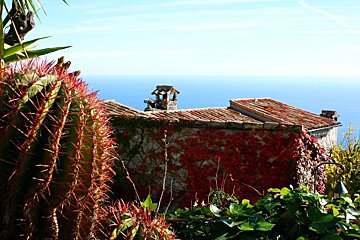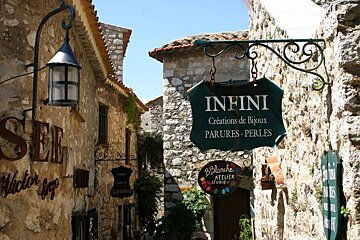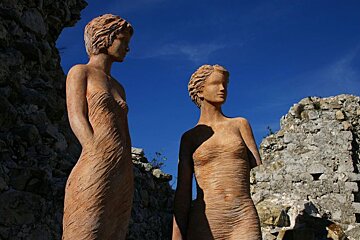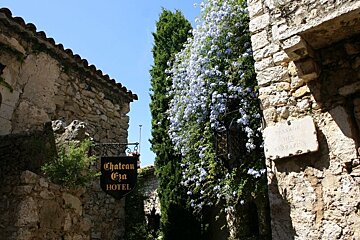 Eze, Alpes-Maritimes
An incredible little village perched by the sea
A wonderful medieval village, Eze is perched on a hilltop overlooking the Riviera with a ruined 12th century castle at its pinnacle. It's actually split into two very distinct areas - Eze-Sur-Mer and Eze Village.
Eze is easily the most dramatic of the medieval hilltop towns. Perched a dizzying 1,400 feet above the Mediterranean between Cap d'Ail and Cap Ferrat, Eze looks precariously balanced on its rocky eagle's nest.
Eze Village is the higher part, whereas Eze-Sur-Mer is down on the coast. If you want to head to the beach then you can take a direct train from Nice to Eze-Sur-Mer; to get to Eze Village you can either get a bus from Nice, take one of the (infrequent) bus No. 83 services from Eze sur Mer, or hike up (about one strenuous hour) from the train station.
Streets are narrow and cobbled, purple bougainvillea cascades from turrets and towers, old bells and metal signs hang above heavy wooden doors and every now and then you get a glimpse of bright blue sea in between the rough stone walls. Walt Disney was a regular visitor to Eze Village and when you see the fairytale architecture you'll understand where his inspiration came from.
History & Culture in Eze
This eagle's nest is a true medieval stronghold, perched over 400m above sea level on a rocky pinnacle with views for miles along the coastline. Evidence of inhabitants date back to 2,000BC, it has been populated by the Romans, the ancient Greeks and the Moors before falling into the hands of the Dukes of Savoy in the 14th century.
These days Eze is a much calmer place and its fortified walls are home to sculpture gardens, art galleries, tea rooms, gift shops and boutiques. There is a Fragonard perfume factory at the entrance to the village and lots of places selling locally made soaps, glassware, jewellery, etc.
Sights & Attractions in Eze
Eze Village is one of the most visited towns on the Riviera and is a tourist attraction in itself.
There's also the famed Exotic Gardens by the ruined castle, where you can grab the best view of the cliffs and coast among the ornamental pools, statues and crazy cacti. The Fragonard perfume factory is also open to visitors, although it can get a bit crowded when the groups come through.
Beaches in Eze
Eze has only one beach but it's a lovely one in a calm bay which is great for swimming.
The beach itself is a long thin ribbon of fine pebbles that curve around the bay, meaning that you're never a long way from the water - good for keeping an eye on children.
There is a watersports club that offers kayaking, windsurfing, scuba diving and sailing. Be aware that you can't jetski here as it's considered too noisy.
The two restaurants serve fresh seafood and local dishes as well as offering sun loungers and parasols for hire. Have a look at our beaches guide to find out more about beaches in Eze and the surrounding area.
Things to do in Eze
Eze-sur-Mer is a quiet residential area with a long stretch of pebble beach and clear calm waters where you can try a number of water sports. It has a couple of nice café bars (try La Bananerie for fresh smoothies) but other than the beach there isn't really a lot to see or do, head up to Eze Village to make the most of your visit.
You can easily lose track of time in Eze Village; there are countless gift shops, art galleries, boutiques, delicatessens and more to poke about in.
Eze is also the starting point for a number of fantastic hikes, such as the climb up to Mont Bastide or the traverse across to Beaulieu-Sur-Mer. There is also a hiking path that links Eze Village and Eze-Sur-Mer, so you can work up a sweat before cooling off in the sea. The path is referred to as Nietzsche's Trail, because the German philosopher walked it each day when he lived in Eze. Be aware that this is a very steep trail: strenuous and hot going up but also surprisingly tough on the joints going down. You need to be relatively fit- take water and shoes with some grip.
Check our hiking guide and hiking routes for suggested itineraries.
Dining in Eze
The small village of Eze is bursting at the seams with restaurants and you won't go far wrong just by wandering round and seeing where takes your fancy; the restaurants here serve great local specialities made from fresh produce.
Eze-Sur-Mer has less to choose from but there is real quality here too.
Hotels in Eze
As you're walking around the village you may notice some doors with names such as "Medieval Suite"; this is because the Chateau de la Chevre d'Or has rooms throughout the town, tucked away amongst the ancient houses.
It's a five-star hotel with a Michelin starred restaurant and fabulous outdoor swimming pool - very popular with honeymooners. The only other hotel in the old town in Chateau Eza, also five-star with a very good reputation and an excellent Michelin starred restaurant.
There are also a number of very nice B&B's just outside the village in the surrounding hills.
Directions
You can get to Eze-Sur-Mer by train (direction Vintimille) or on the no.100 bus, to go directly to Eze Village take the 82 bus from Nice Vauban.
Location